This is it, folks. This is THE most preachy run of comics I've EVER freakin' seen! Almost as bad as "Superman: Grounded"! ALMOST! And the worst part is...this is a Green Lantern comic. I pretty much grew UP on Green Lantern.
And yet, unfortunately, Green Lantern's given me some of the most pretentious, preachy, head-up-its-ass, morality-play, talking-down-to-you storylines I have ever, EVER seen. And right outta the starting gate is a story run done by the the comic creating dynamic duo of Dennis O'Neil and Neal Adams. The story comes from the 70's, during the "Silver Age" of comics, when Hal Jordan was the Green Lantern.
Who's Hal Jordan? He's a test pilot. He used to be a military pilot but he got fired due to certain circumstances. One day he was flying a plane for his girlfriend's company, Ferris Aircraft, and what should he find? A crashed alien ship. He goes down to try and help the inhabitant because he is "without fear", and because of this admirable quality, the dying alien within, Abin Sur, gives HIM the Green Lantern ring he'd had. Hal becomes Green Lantern of Earth, sworn to protect the innocent, uphold law and order. The Green Lantern corps are, simply put, space cops. He was, though a bit of a stick in the mud, as moral as Superman, and a decent, well-meaning guy.
He was also friends with Oliver Queen, the Green Arrow. Ollie is, to put it simply, like an early version of "The Dude". He's like Robin Hood, but a "cool cat". He's the man on the street looking out for others on the street. He's a grounding influence in the Justice League, somebody there to speak up for the little man. He's anti-establishment and something of a conspiracy nut. And often, a lot of fun to read.
However, because Hal is kind of working for "The Man", he and Hal often clash. This is one of those times. I'll show you. Hal notices a bunch of people roughing up a fat person on the street. Naturally he does what ANYBODY not knowing anything about the circumstances leading up to said events would do: he tries to keep the guy from being publicly lynched.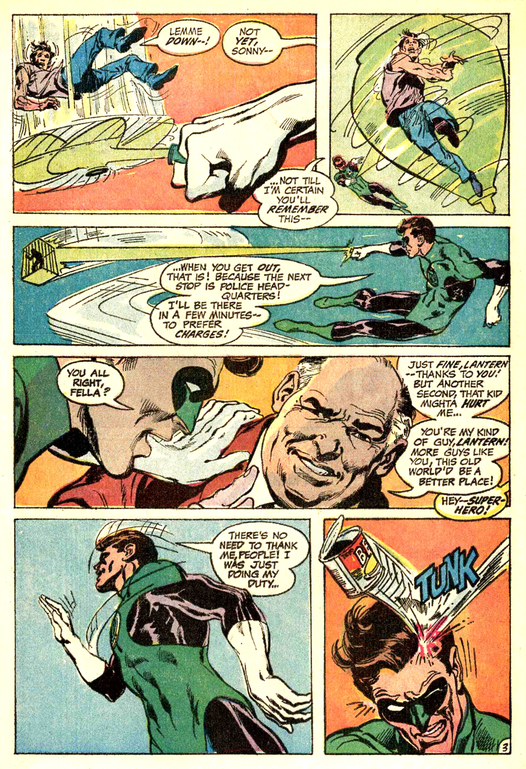 Heh-heh. I LOVE that expression he has on the lower right panel. Its then that Green Arrow shows up to "put Green Lantern in his place".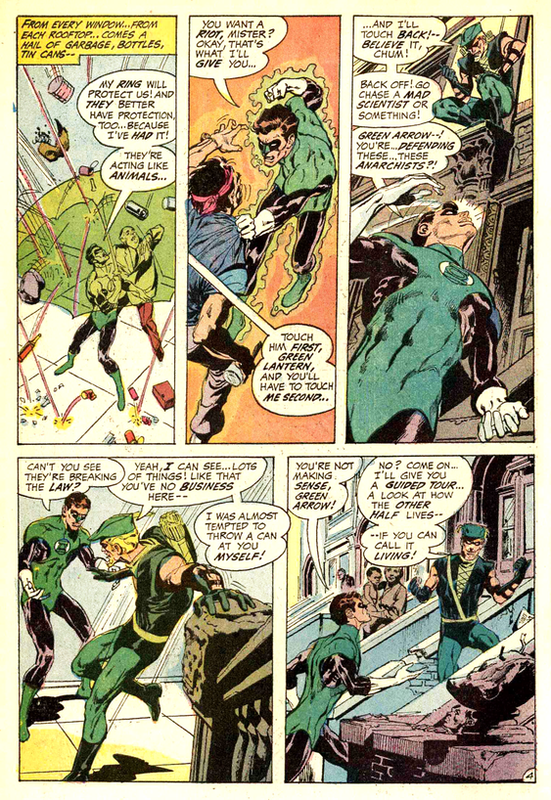 Now at FIRST I was feeling sorry for Green Arrow. At first. But then I kept reading. Take a look.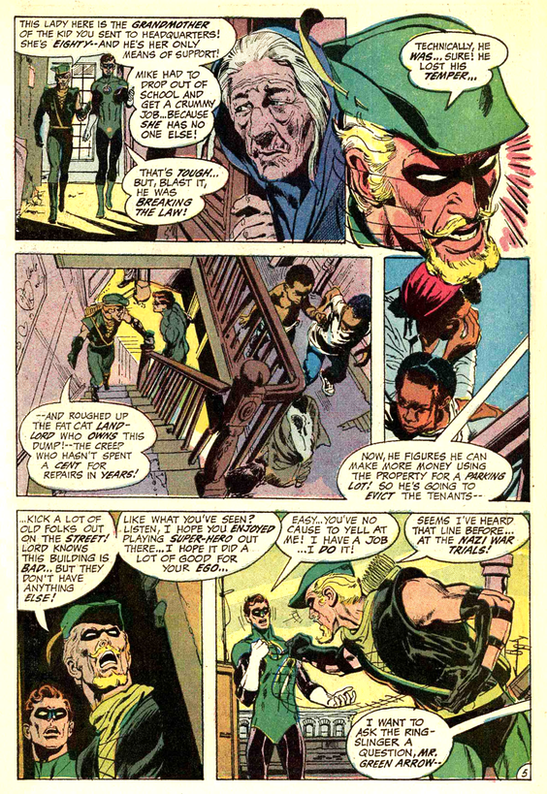 ...that's right. Green Arrow just invoked Godwin's Law. He brought in the Nazis. Dude, are you serious? How did you honestly expect Green Lantern to know the guy was a sleazebag evicting jackass? NOBODY would have known that unless they were actually living in the building! Don't blame Green Lantern for just trying to keep someone from getting beaten to death!
Oh, but wait. This is it. This is one of the most controversial parts of comic book history. This is a
big damn moment
in comics. Are you ready for it? This is the next page.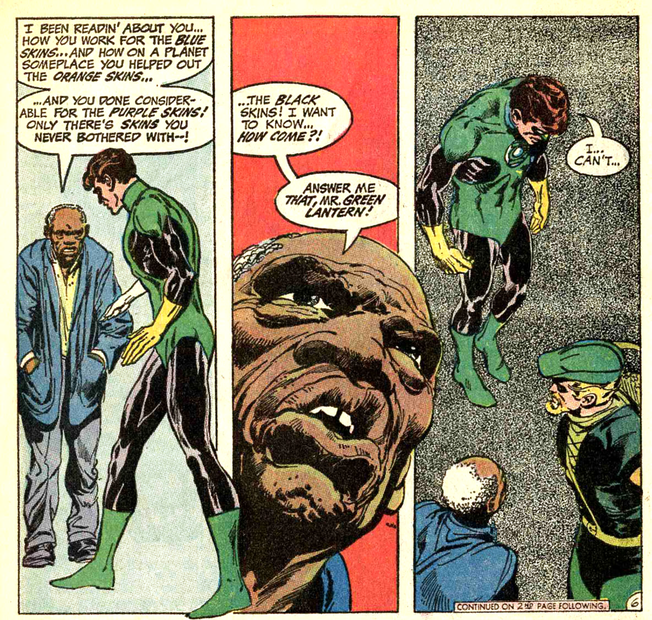 ...
ARE YOU FUCKING KIDDING ME?!?
I am...I CANNOT believe that...I mean...
I'm gonna quote the epic comic book writer Grant Morrison here to express my views. "In any real world where the laws of physics and some interstellar impartial judiciary permitted his existence, Green Lantern's response would have been ALL our responses to the same accusation. "I'VE BEEN SAVING THE
ENTIRE
EARTH AND
EVERY LIVING THING
ON IT REGARDLESS OF RACE, COLOR, POLITICAL AFFILIATION OR SPECIES SINCE GREEN LANTERN ISSUE NUMBER 1"." But no. Green Lantern just hangs his head like he should be SO ashamed. Believability got sacrificed to hammer home this preachy little bullshit of a point.
Oh. And in case you're thinkin' "Now hold on, Nick! We're looking back on this and laughing from our more modern era! Of course it comes off as preachy NOW, but back then, it was a different story!"
That idea is charming. But wrong. This is why I am a believer in universal ideas of right and wrong: there are ALWAYS people, no matter WHAT time period, that have the right idea on what is good and what is bad. And here's a letter from the last issue of the O'Neil/Adams run. The first was number 76. This is from number 89. A little over a YEAR later. In the 70'S. This was someone's response. I've circled it so you can't miss it.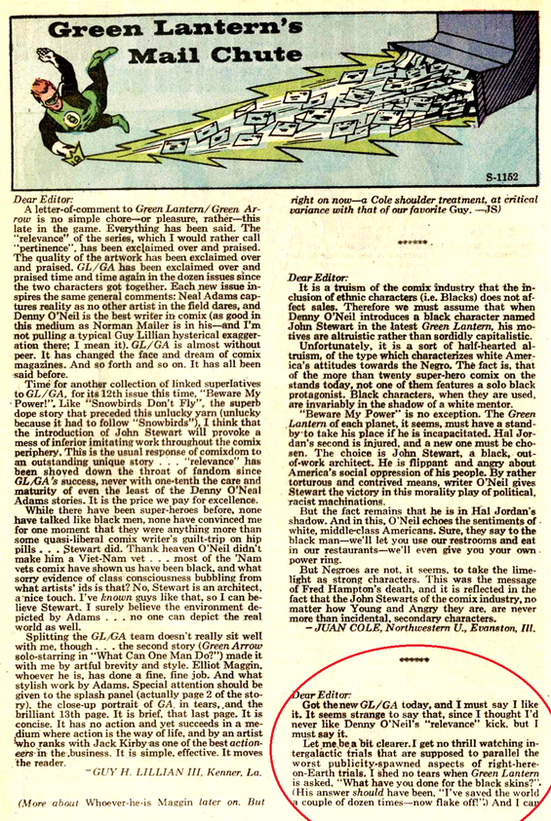 Ya see? Even people BACK THEN were calling "bullshit" on this! So if anybody wants to go on about how "People back then didn't know better", here's an example of how "people back then DID". You people know who you are.

Let us move on. Green Arrow gets a clever little idea as Hal wangsts and wangsts like the "White Guilt" machine that stems from Hollywood and the Comic Book industry enjoys seeing.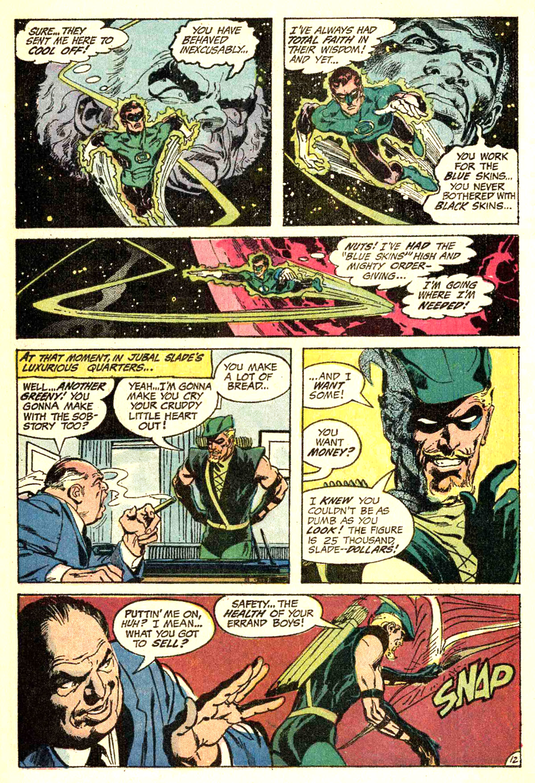 No, he's not gonna kill him. Close.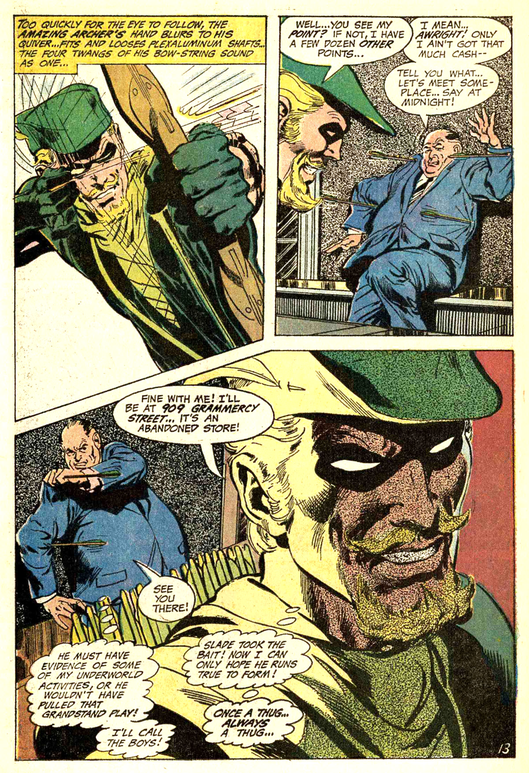 Ollie tries to trick him into showing up and incriminating himself whilst he records the experience. The problem is that the tape he uses to record all this gets destroyed. And when Hal tries to appeal to the man directly? He laughs at him for being a "bleeding heart".
But wait! HAL now has a clever idea.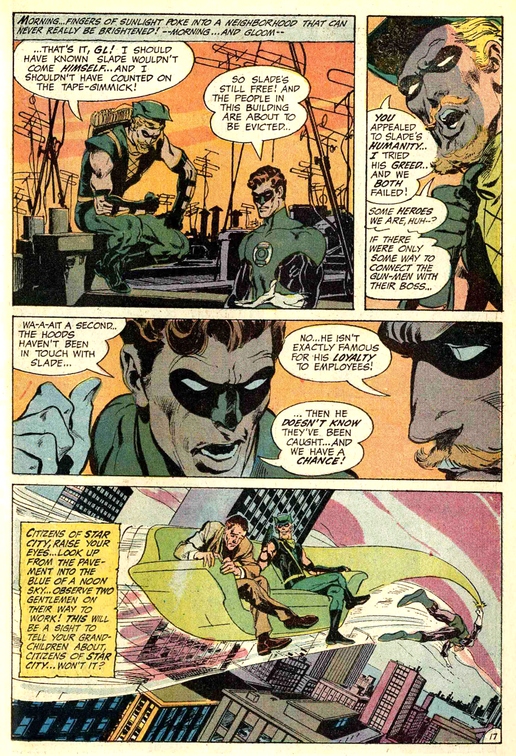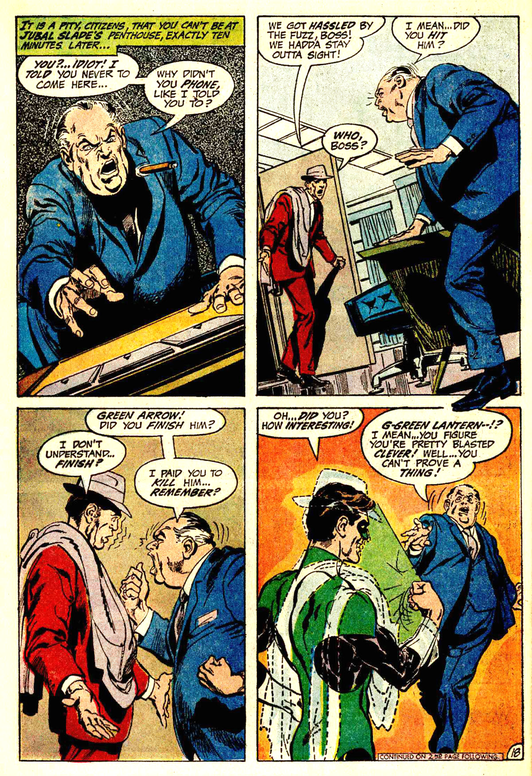 Green Lantern and Green Arrow just created a "Sting" operation. A federal agent got snuck into the building along with them and now they have a pretty much public confession of what he's done. He is SO screwed.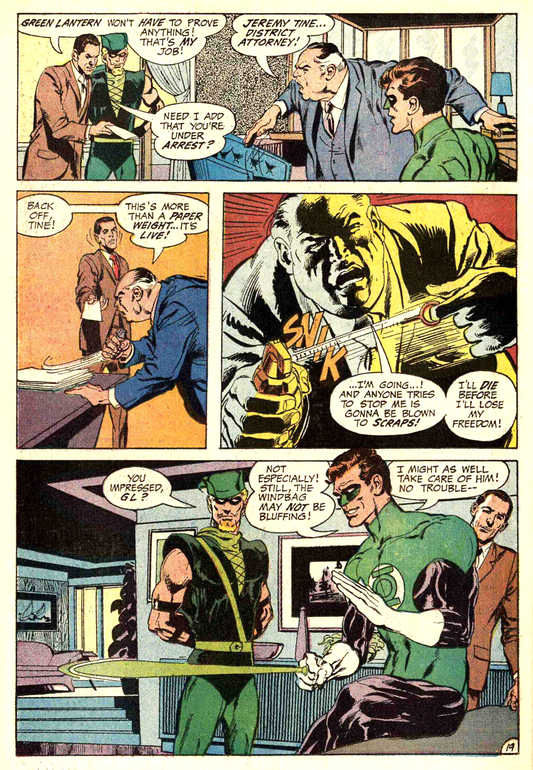 Oh, but wait! There's MORE to this preachy bull! Wait for it...wait for it!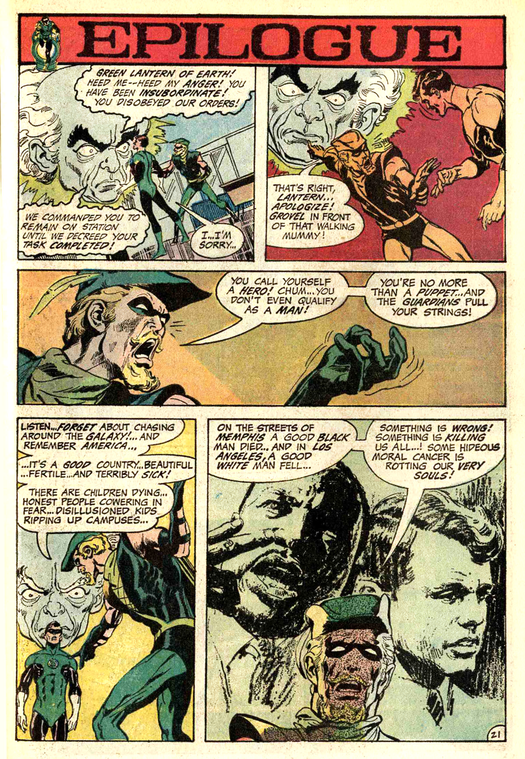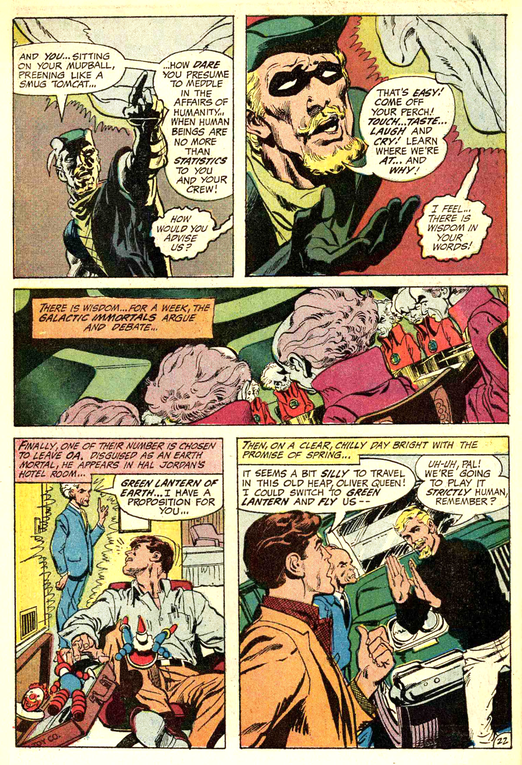 Oh GOD, its like "Superman: Grounded" all over again! Good art? Yes! But like I said, this story is preachy, pretentious and
freakin' insulting!
God darn it, O'Neil! God darn it, Adams! If you can't come up with a less in-your-face-insultingly bad story arc later on, I'm NEVER buying ANYTHING you've ever written EVER again!
Oh, but guess what?
I'VE READ AHEAD.
This isn't even as bad as it GETS with the pretentious garbage! Oh no!
I'm just gettin' STARTED.